Just for Food
Inclusive of free flow soft drinks
The Experience
Inclusive of free flow alcoholic beverages, guests must be at least 21 years old
W Does Brunch for 1 + One-Night Stay in Wonderful Room with Breakfast Box for 1
Choose between W Does Brunch - Just for Food or The Experience
W Does Brunch for 1 + One-Night Stay in Spectacular Room with Breakfast Box for 1
Choose between W Does Brunch - Just for Food or The Experience
W Does Brunch for 2 + One-Night Stay in Wonderful Room with Breakfast Box for 2
Choose between W Does Brunch - Just for Food or The Experience
W Does Brunch for 2 + One-Night Stay in Spectacular Room with Breakfast Box for 2
Choose between W Does Brunch - Just for Food or The Experience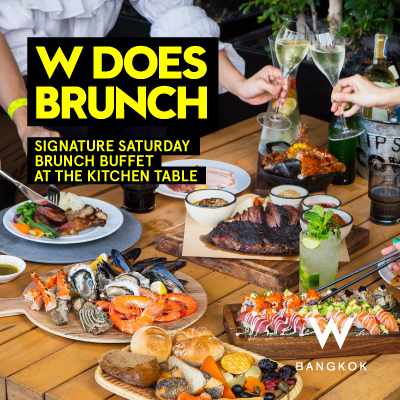 Venue Details
W Bangkok
106 North Satorn Road, Silom
Bangrak, Bangkok, 10500
More dates and more packages have been added! Explore now. 
Happening only once a month, W Does Brunch is heaven for foodies and drinkies.
Expect 3 full hours of brunching with good vibes, a variety of great food. Mingle and enjoy throughout with #WCocktailCulture and live beats by our DJs.
Our highlights include:
Fresh seafood 
Louisiana seafood, salt crusted whole fish, fluffy soufflé pancake station, baked eggs with avocado and much more
Tipsy Cow selected dishes such as smoked beef brisket, BBQ pork ribs and smoked chorizo sausage from our outdoor terrace
Live cocktail station
Dessert, cheese and charcuteries bar
Just for Food: THB 1,999++/person
inclusive of free flow soft drinks and juices
The Experience: THB 2,999++/person
inclusive of food, free flow cocktails, wines, beers and bubbles
Or choose to upgrade your W Does Brunch experience further with a staycation; 
W Does Brunch in any package + one-night stay in Wonderful Room inclusive of breakfast box for one at THB 4,999++ or for two at THB 7,499++
Add THB 500++ for an upgrade to Spectacular Room
W Does Brunch happens on every first Saturday of the month from 12:30PM - 3:30PM.
-------------------------------------------------------------------------
Our Marriott Commitment to Clean measures include:
Screen temperatures before entering the hotel
Control flow and maintain social distancing; at least 1 meter between tables
Use appropriate Personal Protective Equipment for food handling in compliance with all Marriott and industry food safety protocols; weekly self-audits on Marriott Global Food Safety Standards
Disinfect furniture after every meal period; wipe down all tables and chairs with disinfectant between customers
More frequent cleaning in high traffic areas
Modified buffets with servers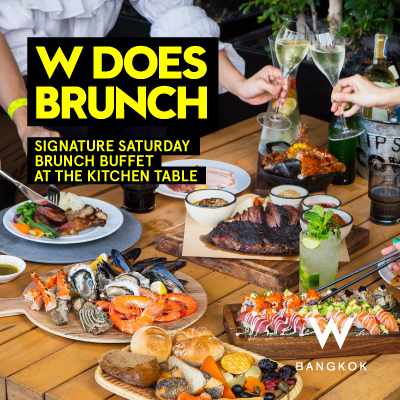 Venue Details
W Bangkok
106 North Satorn Road, Silom
Bangrak, Bangkok, 10500